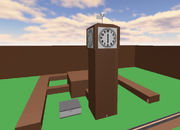 Fort bismarck is a magical fort really, built for old computer through scripting, and optimized for new computers through building. Fort Bismarck is the Main for of both the late DDK, and the new DKP.
History
Throughout the many versions of Fort Bismarck, we always thrived for the
best... At minimal expense. We always designed the fort to be fun, practical, and alerting for easy raids, fun training, and wounderous memories. In the video to the right, you can see a quick little pistol duel ( At the time, free modeled glocks.) at a very very VERY early version of Fort Bismarck; around versio 0.9 of the unofficial Beta.
Community content is available under
CC-BY-SA
unless otherwise noted.